Want The Most From Your Riverwalk Experience? Join The Club!
Open 24 hours, 7 days a week.
Just sign up at Casino Services. It's Free!
Direct Mail Offers
Redeem Points for BonusPLAY!
Redeem Points for Cash Back
Personalized Host Services
Bonus Payouts on Select Promotions
Drawing Entry Multipliers
New Members WIN Up To $5,000!
Play the New Member kiosk game for a chance to win up to $5,000 BonusPLAY! Plus, second visit bonus • earn 25 points and get $10 BonusPLAY!
View More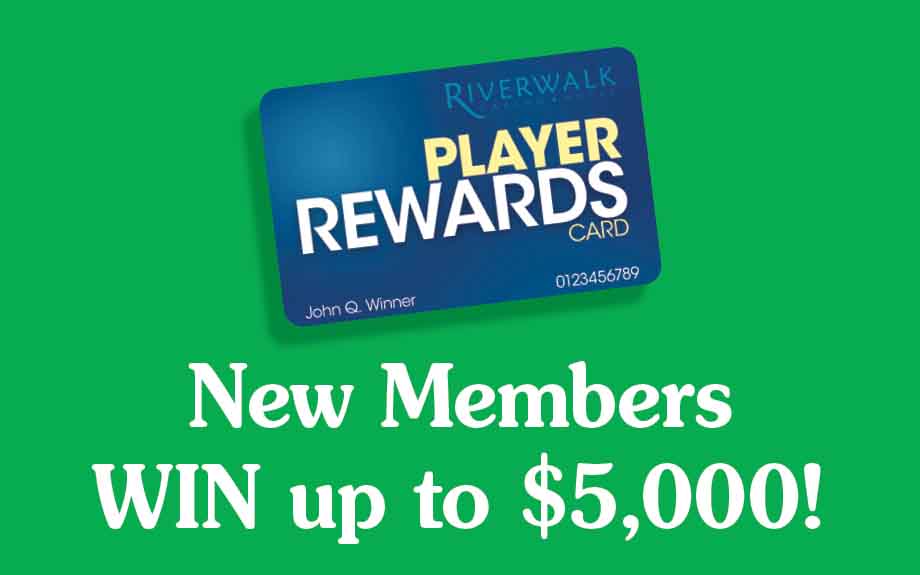 Bring A Friend
Bring a new Players Club Member and get $25 BonusPLAY! when they sign up for the Riverwalk Rewards Club! 
View More
We're thrilled to announce updates to our Players Club
WE MADE YOUR POINTS EVEN MORE VALUABLE!
Now you can get $1 in BonusPLAY! for every 100 points earned.
PLAY YOUR WAY TO A CARNIVAL® CRUISE!
We've added an all-new benefit—Double Diamond and Triple Diamond card members can now earn a FREE Carnival® Cruise! Put your next dream getaway "on deck" just by playing all your favorite games.
GET YOUR TIER BENEFITS INSTANTLY!
The wait is over! All tier upgrades are now automatic. That means when you reach a new tier, you can enjoy all its great new benefits faster than ever before.
ALL YOUR CURRENT POINT VALUES AND COMP DOLLARS WILL CARRY OVER.
The Riverwalk Rewards Club is changing, but your point values and comp dollars will all carry over. Continue to use them however you want!
RIVERWALK REWARDS CLUB CARD TIER LEVELS
Player Rewards • Zero Earned Tier Points Required
Single Diamond • 2,500 Earned Tier Points
Double Diamond • 12,000 Earned Tier Points
Triple Diamond • 20,000+ Earned Tier Points
As we usher in a new era of exclusive promotions and larger point multipliers, we've revised the coin-in-to-point ratio and retired point multipliers across all tier levels.
We thank you for continuing to make Riverwalk your place to play. If you have any questions regarding the exciting updates to the Riverwalk Rewards Club program, please visit Casino Services (24 hours a day, seven days a week.)
Player
Rewards

Diamond

Double
Diamond
Triple
Diamond
Tier Points Required
up to 2,499
2,500
12,000
20,000+

Exclusive Benefits

Exclusive Carnival® Cruise Offers
Redeem Points for Cash Back
Personalized Host Services
Suite Upgrades (based on availability)
No Charge for Cash Advance
Priority Event Notification
Bonus Payouts for Select Promotions
Special Gifts and Offers
Tier-Specific Promotions
Birthday Offers
Drawing Entry Multipliers
Discounted Gift Shop Offers on Cash Purchases
10%
15%
20%
Earn BonusPLAY! and Comps EVERY DAY
Self-Comping Privileges
Redeem Points for BonusPLAY!
Redeem Points for Food
Redeem Points for Hotel Stays
Redeem Points for Gift Shop Purchases
Direct Mail Offers
Bonus Email Offers
Invitations to Special Locals Events and Promotions
Earn points by using your Riverwalk Rewards card whenever you play slots or table games at Riverwalk Casino. For reel or video slots, $5 coin in = 1 earned point. On video poker, $20 coin in = 1 earned point. Table game players earn rewards based on length of play, average bet, and game type.
Acceptable Forms of ID
U.S. or Canadian photo driver's license
U.S. or Canadian photo non-driver's license
U.S. Military ID with photo
U.S. or Foreign Passport with photo
Hours
Open 24 hours, 7 days a week.